Unpacking Microsoft's Acquisition of Softomotive
How Microsoft's latest acquisition fits in to its RPA and product strategy
---
Hello friends — I'm using this newsletter as a way to dive into a trend or observation within technology, or startups that I'm learning about. Any thoughts or feedback would be appreciated!
This week's post unpacks Microsoft's acquisition of Softomotive and how Microsoft is gearing up to be a major player in RPA.
---
Microsoft-omotive
Last week, Microsoft hosted the latest installment of its annual developer conference, Microsoft Build. During the 48 hour digital event, Satya Nadella also confirmed reports that they have acquired Softomotive, a robotic process automation (RPA) company based in London. As a quick primer, RPA is a technology that automates repetitive tasks and processes that a worker might do by assigning virtual "robots" to do them instead.
Softomotive emerged 15 years ago alongside RPA heavyweights, UiPath and Automation Anywhere. Since that time, UiPath and Automation Anywhere have collectively raised a whopping ~$2B, compared to a modest $25m for Softomotive.
This acquisition is an indicator of the increasing importance of RPA in Microsoft's broader product strategy. I'd like to unpack this acquisition and examine how Microsoft is gearing up to be a major player in the RPA market.
Why does Microsoft care about RPA ❓
The promise of RPA is to liberate employees from doing repetitive, mundane tasks. It's a less glamorized segment of The Future of Work, but has tremendous potential in shaping the workforce. I like the vision UiPath paints of an automation-first world:
Just as Bill Gates envisioned a world with a PC for every desktop, UiPath envisions a world with a robot for every person. When every worker has a robot to help with mundane tasks, it frees employees to use time for higher-level work. Workers feel less stressed and become happier and more productive.
In hindsight, probably the wrong move for UiPath to name-drop Bill and essentially invite Microsoft into the ring. But the reality is that automation falls directly within Microsoft's vision improving enterprise productivity.
With all the other blockbuster products, Microsoft's "Power" family of of low-code and no-code products typically gets less attention. Not today though.

The most directly related to RPA is Power Automate, which launched in 2019 as a rebrand of the 2016 Microsoft Flow product (Microsoft is a big fan of name changes).
The initial goal was to automate tasks within the Microsoft application ecosystem or custom apps you created with Power Apps. Over time, it has evolved into a more traditional RPA product connecting with important tools like Dropbox, Salesforce, etc.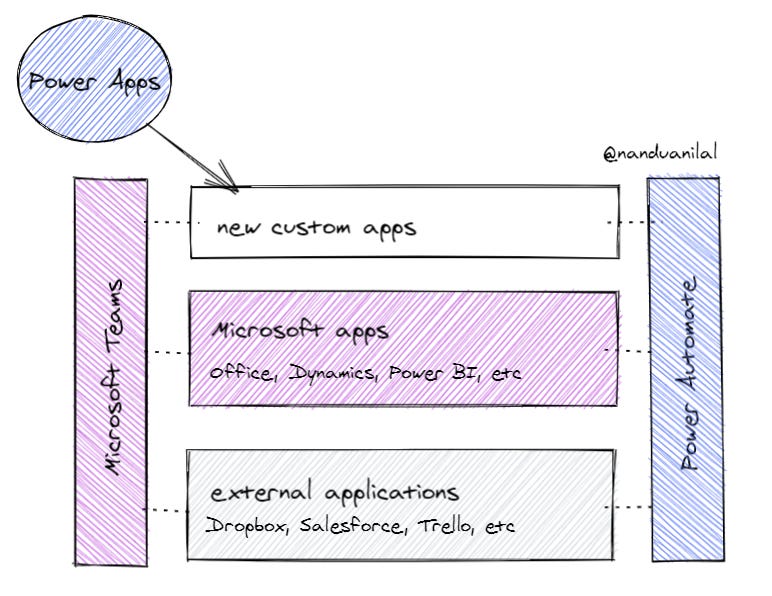 Essentially, Microsoft has put together an array of low-code and automation tools that bolster its current suite of products. In other words, the Power platform compliments high-revenue products like Office 365 and Dynamics by automating the workflows around them.
Investing as an entry point 💰
1/ Softomotive
Why then, is Microsoft (in the midst of COVID-19) acquiring an old RPA company?
Well, let's start with what exactly Softomotive offers — here's what Forrester had to say about the RPA player:
Its market positioning is sound, with a business model focused on rapid deployment, good price points, attended use cases, and small-to-midsize businesses, with a growing presence in large enterprises.
The acquisition fills major gaps on product, design, and market understanding that allows Microsoft to leapfrog ahead on its roadmap. Microsoft has already proven its skill in taking a new product and quickly grabbing market share via their existing customers, as they've done with Teams. While we probably won't get these same metrics just yet, the success of this acquisition will be in how they can expand on Softomotive's footprint.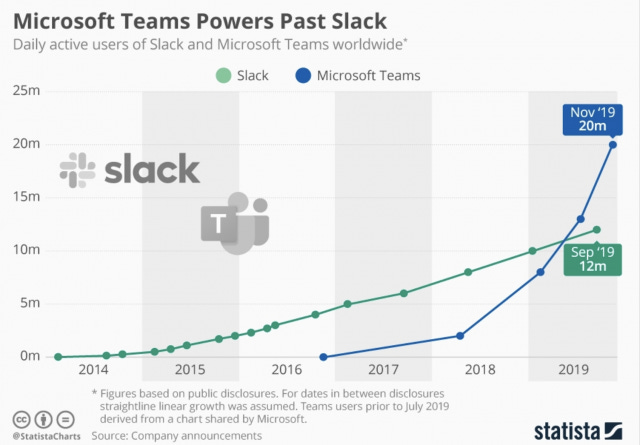 2/ FortressIQ
It's not just Softomotive.
Earlier this month, M12, Microsoft's venture fund, announced that they co-led the Series B round for FortressIQ. The 3 year-old startup combines computer vision, NLP, ML to model how different processes are executed and:
If a process is well-suited for automation, FortressIQ will recommend RPA
And of course, this investment puts Microsoft (+ Softomotive) in a better position to win these new RPA deals. Most other RPA players have looked to build process discovery solutions in-house, but Microsoft is able to dabble its feet with an investment before committing more deeply.
Microsoft is putting capital to work and fortifying its portfolio quickly to compete in one of the hottest markets today.
Why Microsoft is a real threat 💻
Microsoft's investment strategy is only one tool in its arsenal to become an RPA leader. Beyond its M&A activities, I think Microsoft is well-positioned to build on its existing assets:
1/
Microsoft Teams:
I've written before about my long-term bullishness on these chat-based collaboration hubs, but the rate at which Teams is growing is still surprising. At 75 million daily users, Teams puts Microsoft in the middle of work. While individuals will need new applications over time, the need for a communication interface is relatively static.
Microsoft has the opportunity to natively integrate Power Automate directly into existing Teams product in a way that competitors can't. Even Slack is getting in on the fun with their Workflow Automation tool to automate simple tasks. While it's unlikely that you'd use a tool like this to automate very complex processes, it is a great distribution channel to reach the business user and provide a no-code offering.
2/
AI + ML Talent:
The race for talent in tech is not ending any time soon. While it's challenging enough to hire and retain software engineers, there's an even smaller pool of available AI talent. Microsoft has already spent more than nearly anyone to build up its technical expertise.
With much of RPA becoming commoditized, differentiation will stem from applications of artificial intelligence like machine learning, document processing, natural language processing, and so on. In Nadella's words:
AI and machine learning is being infused into every experience in a deep way, and you're going to see a lot of that.
Borrowing from other business units, Microsoft has the ability to equip its RPA offering with more and more AI capabilities benefitting tremendously from its existing products and workforce.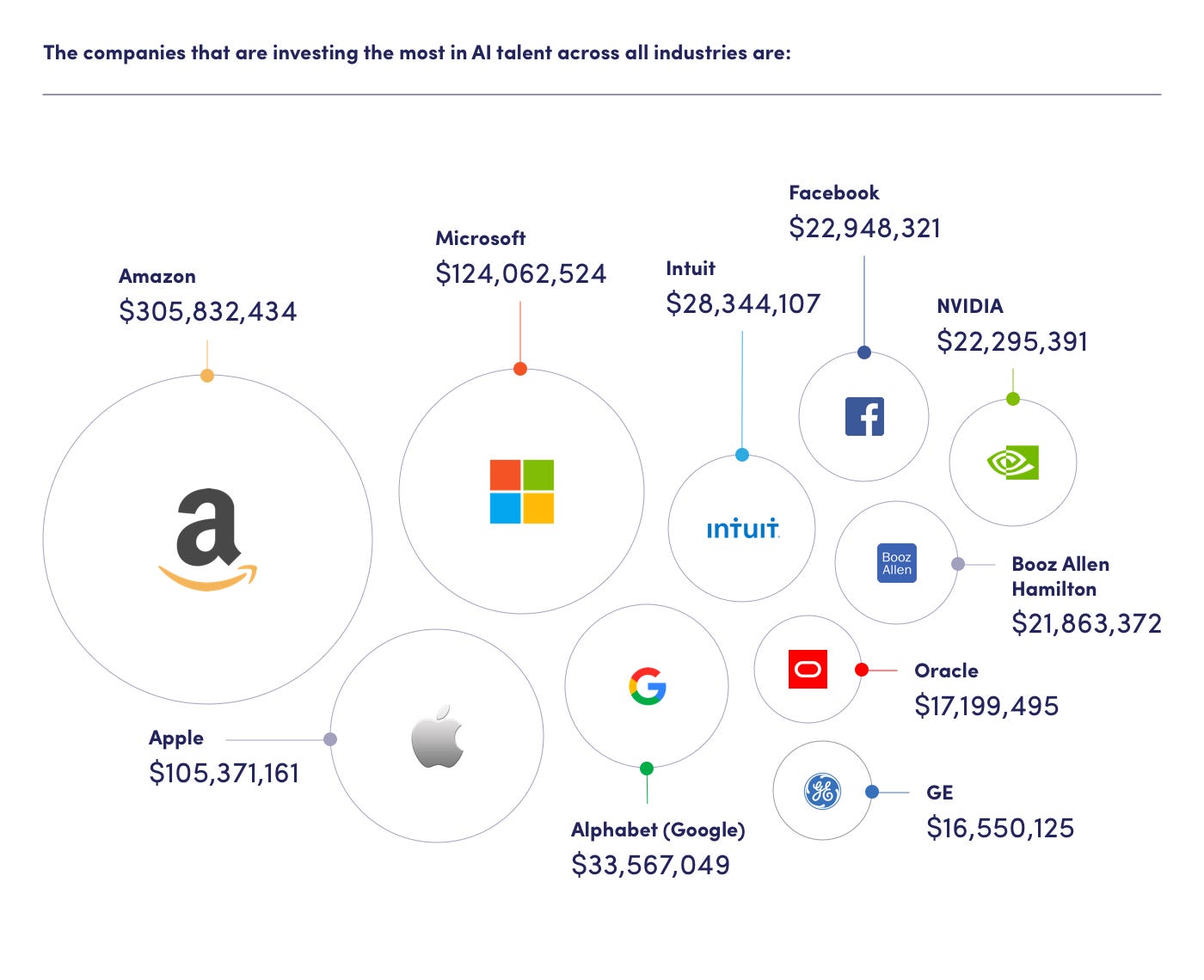 3/
Business & Developer Community
:
While Microsoft used to spend much of its attention on the business user who leverages Office daily and works on a Windows machine. It was this commitment to the business user that led to Microsoft's 2016 acquisition of Linkedin, the largest network of business professionals.
Under Nadella, the company has shifted some attention away from the business user and towards the developers who develop, manage, and deploy applications on Microsoft's Azure infrastructure. This shift was accentuated by their 2018 acquisition of GitHub and its community of millions of developers.
RPA use cases vary in underlying complexity, meaning in some cases the business user can make changes using low-code tools. In other cases, it would require developers to work on top of existing building blocks. Microsoft's deep relationship with both gives them a flexibility that will be difficult for competitors to replicate.
Two predictions 🔮
Even though I'm optimistic about Microsoft's positioning to go after RPA, there's no reason this market won't be able to support multiple standalone companies.
Here are my two predictions on how this market evolves:
We'll see blockbuster M&A activity: There's already been some action in the space, even outside of Microsoft. SAP acquired Contextor, Appian acquired Jidoka, Pegasystems acquired OpenSpan, and even more corporate venture deals have been made. That said, there have not been any blockbuster acquisitions in the space yet. In the next few years, I suspect that will change as the market enters $10B+ territory. RPA is a natural fit with many enterprise software companies, and many of them are already heavily investing in the AI capabilities that can provide a competitive advantage in the space.

Bottoms-up products will unlock billions in TAM: RPA software is typically sold as a license to customers. The software provides the building blocks for process automation, which customers must then translate into real solutions. As a result, customers often rely on professional services like Deloitte, EY, etc. to realize actual value. These services can be expensive and slow, leaving much to be desired. I'm excited about a next crop of startups looking to bring RPA to businesses that are constrained on implementation talent (ie no code).
The reality is that whether or not Microsoft made this acquisition, RPA is large and growing. The need for automation persists in a remote world and even in a weakened economy. RPA has not yet been solved and I'm excited about the ripple effects of this acquisition. I think Param Kahlon, Chief Product Officer of UiPath, put it well:
The reality is that making RPA work easy and at scale for enterprise customers is not easy. We are happy to compete with a company like Microsoft. We do not underestimate Microsoft. This will force us to invest more in R&D.
Thanks for reading! Sign up below to get these emails in your inbox and let me know what you think via email or Twitter!