Where Work Happens 💬
The future of software centered around Slack, Teams, etc.
Collaboration
To this day, I find it tricky to explain what exactly the Slack value proposition is — it's some combination of saved time, improved collaboration, and just ease of use. Having used virtually zero modern software in my first job as a management consultant, I was eager to see what all the hype was about when I started a job in "tech". To me, the value is reflected in how Slack can sit at the center of your work universe, with everything else flowing through it. It's hard to categorize by a product feature set alone because messaging and channels do not seem that innovative, which is why Slack more accurately falls into nebulous buckets like collaboration and productivity.
By becoming a central tool that employees used to work with others, Slack commands attention and has become an exciting platform for new and existing companies to build on: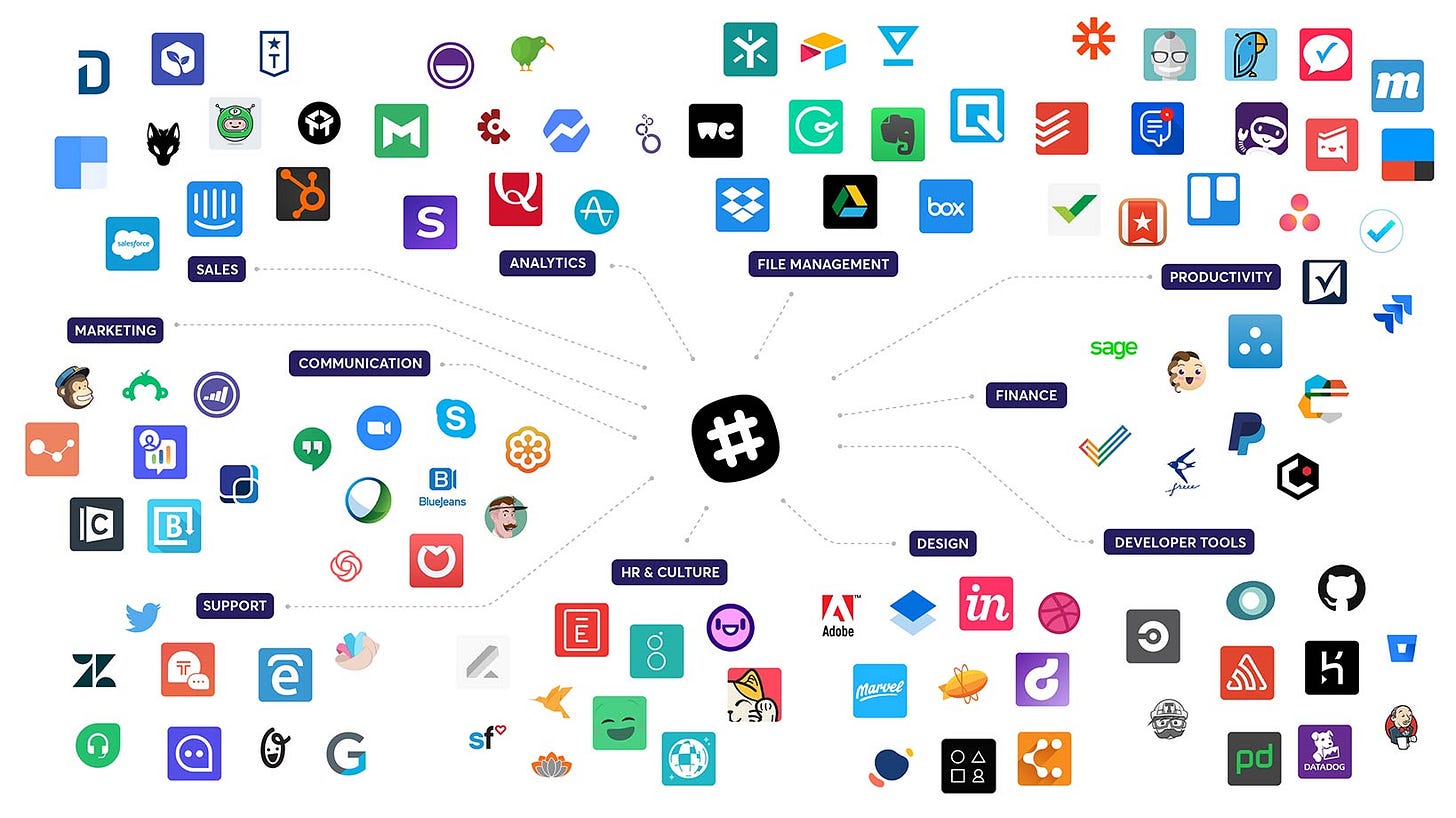 Focused on Enterprise
As large organizations look to break down silos between teams and geographies, they are increasingly turning to Slack-like (read: Microsoft Teams) product solutions. Ultimately, the flow of information within an organization is both a cultural and operational problem, but Slack is a powerful tool to help shift working styles.
Slack's made it a point to show that they are increasingly succeeding in their larger accounts, with almost half their revenue coming from large accounts: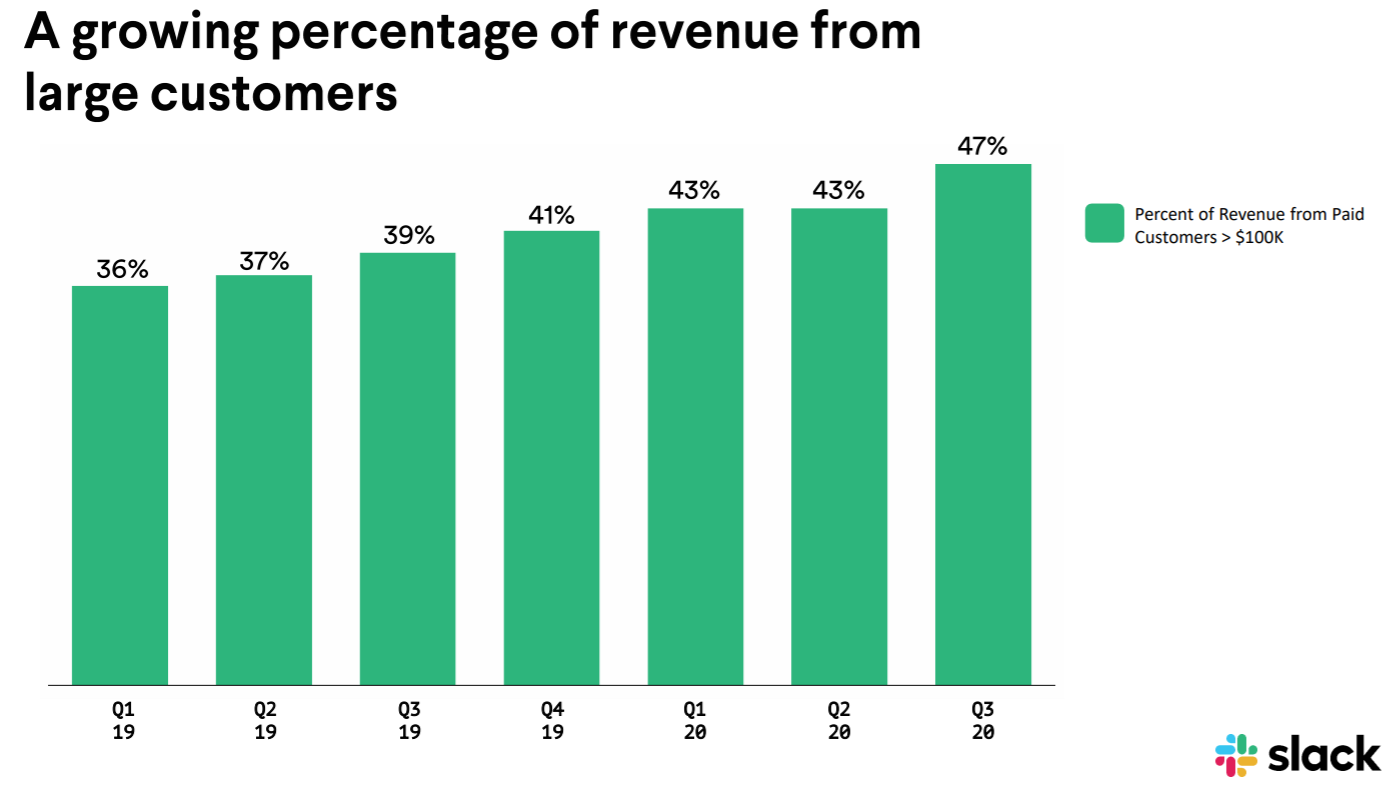 That is to say, the opportunity just within enterprise is significant and something Slack has prioritized. To date, Slack's bottoms-up sales strategy has propelled them to become a $12B business, but has also limited their defensibility in the enterprise space. Microsoft Teams has rushed in riding the Slack wave and touted growth that reminds you that they've still got it: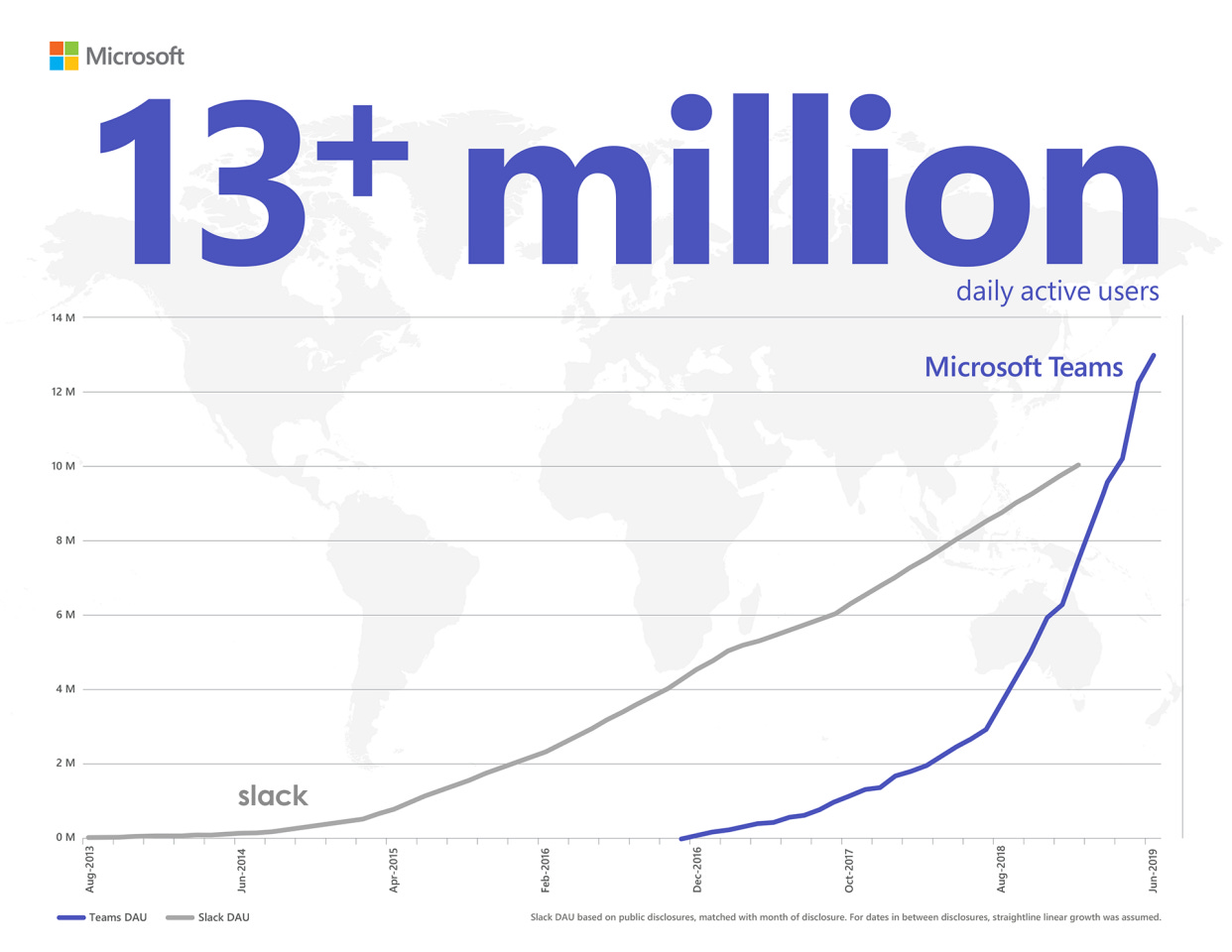 I think Slack is still well-positioned to continue to grow in this space, but the way this is playing out is a bit reminiscent of Dropbox. While they innovated and had best-in-class product, targeting consumer proved to be a big strategic barrier in monetization ultimately leading them to shift towards B2B. In a world where product can be copied and almost any feature can become commoditized, go-to-market proves to be critical. I don't think Slack necessarily mis-stepped here, but rather Microsoft capitalized on their advantages in acquiring enterprise customers. I maintain optimistic about both companies taking more and more of the enterprise market, and while I'd like to see Slack rewarded for it's disruptive technology, I do think Teams will continue to be the larger player in this space.
With this adoption, other winners are companies who were valuable even in a Slack-less world, but whose benefits are now amplified. Integrations that come to mind are Google Drive, Giphy, Jira, Envoy, etc., all of which now become more collaborative products simply by plugging in to Slack. This makes Slack better and the respective applications better, so both sides have aligned incentives. Additionally, workflow automation tools like Zapier have benefitted from an expanding Slack integration library. However, Slack's new workflow builder may bite into that.
Untapped Opportunities
On the other hand, smaller organizations were historically the bread-and-butter of Slack's customer base. G2 Research mentioned a whopping 46% of Slack's app reviews came from businesses with <50 employees. However, Slack and Teams have been pretty clear that their focus is on enterprise. For this reason, smaller organizations remain an interesting customer base for new players to target. While large organizations have multiple functional groups that benefit from being stitched together, these smaller organizations may not experience the same pain. Here's two areas I'm interested in for new players:
1. Is there a vertical application that is superior to Slack/Teams?
While Slack and Teams are essentially category creators, I'm not sure their product is good enough for all industries. A few verticals where I think there's opportunity:
Hospitality: Hotels are complex operations, with different teams responsible for customer service, housekeeping, food, vendor management, etc. The mix of recurring and emergency tasks makes this an industry dependent on efficient collaboration. I've only seen Beekeeper focused on this space, providing comms + file sharing + shift scheduling.
Healthcare: Hospitals and private practices require flexible communication tools with doctors often splitting time between offices and the overall provider ecosystem touching many hands. It's likely very challenging because there's opportunity for communication between patients and providers, providers and other providers, as well as patients and other patients — all of which I'm sure have some level of compliance constraints. Stitch out of Y Combinator was originally focused on this broader problem space, but seems to have focused more on connecting patients with each other.
2. Are there Slack or Teams-native horizontal apps?
The Slacks of the world want to be "where work happens", unlocking an opportunity for startups to add value to small businesses that would otherwise hesitate to buy more software. I hypothesize that it's a more compelling sale to smaller organizations to try an integration into Slack than to set up a new application that lives on its own. As such, I think these large functional areas could still be improved:
Sales & Customer Success: Since Slack is not a CRM and Salesforce is not a collaboration product, there's an inherent disconnect in communicating information. I like what Troops is doing in this space by bringing collaboration closer to their existing workflows and tools. These job functions require a balance of internal and external communication, and the bridge between the two is a lofty problem space because ultimately it exists in both small and large organizations.
HR: Smaller teams are typically lighter on the human resource headcount, evidenced by the sheer volume of time that early employees dedicate towards recruiting. While there's plenty of tools that exist to solve HR solutions, they are not oriented around the things that matter to small businesses (time-to-value, ease-of-use). Harmonize is looking to fill in this gap with a chat-native offering.
Closing
It's not like I think Slack is the new mobile, but I believe in the market's medium-term success. With that momentum, I anticipate seeing successful companies being built around collaboration software even if they are not completely dependent on it.
If you're aware of interesting companies working in this problem space, I'd love to hear about them! Additionally, welcome any opinions or feedback on the piece.
email: nanduanilal@gmail.com
Lastly, in case this was forwarded to you, feel free to sign up here to get my episodic emails sent to you directly.