Why We Need Etsy 🛒
Etsy stock has skyrocketed, and will continue to be an important ecommerce player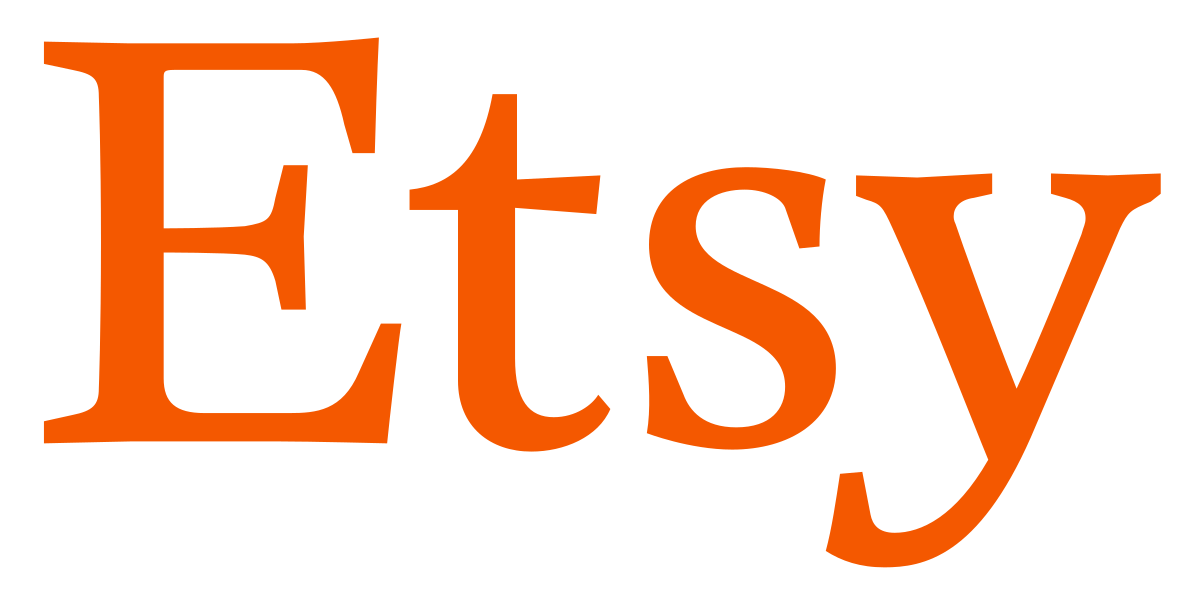 ---
Welcome new subscribers! This newsletter dives into one topic within technology that I've been digging into lately. Appreciate all feedback as I actively try to refine and improve these ideas.
This week's post dives into where I think Etsy fits in the ecommerce landscape and why I believe their strong performance will continue.
---
Etsy sold a staggering $133 million worth of masks in April alone.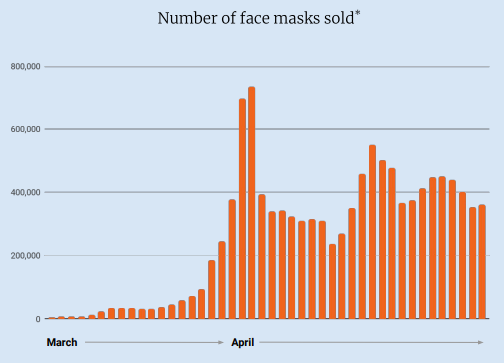 [Source: Etsy Q1 2020 Earnings]
I love this story because it's an example of technology both providing value to consumers, but also providing economic opportunity to small businesses. And that kind of feel-good news is right on brand for Etsy — its mission is to Keep Commerce Human because "human creativity cannot be automated and human connection cannot be commoditized".
While Bezos & co. have quickly shifted the conversation toward 2 day shipping and free returns, Etsy manages to preserve the magic of ecommerce by leaning into personal connection.
We've all seen the chart about how the transition to ecommerce has been dramatically accelerated, but much of that discussion has been focused on the biggest winners: Shopify and Amazon. In this post, I'll dive into where Etsy fits in the ecommerce landscape and why I believe their strong performance will continue.
How Etsy fits in with Amazon in b2c

How Etsy fits in with Shopify in b2b

A couple half-baked moonshots Etsy could consider
Why consumers choose Etsy
I'm not going to sit here and pretend to understand the specifics of the stock market these past few months, but Etsy's recent growth isn't exactly rocket science. Masks aside, people are spending more time at home and consequently more spend on home decorating, Etsy's largest category. Now that customers also have fewer places to shop due to supply chain disruptions and store closures, Etsy is garnering more and more customer attention.
Etsy translated these tailwinds into a 79% year-over-year GMV increase during April (not including the ridiculous mask growth from earlier), which powered the stock far ahead of the S&P 500.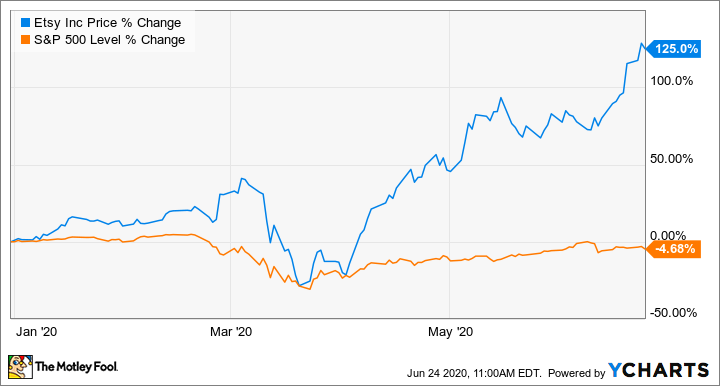 While Etsy's short-term spike is well-explained by the pandemic, I believe the consumer value proposition is one that endures into the long-term. To understand why, we need to first look at why consumers choose Etsy.
Marketplaces vs. Platforms
Ultimately, all ecommerce companies help move money from buyers (consumers) to sellers (businesses). There's two ways to do this:
Marketplaces like Amazon align to consumers, with their mission being to become "Earth's most customer-centric company".

Platforms / business-in-a-box companies like Shopify are hoping to make "make commerce better for everyone, so businesses can focus on what they do best".
Both companies have done exceedingly well with very different approaches, yielding two different experiences for the end consumer. In my view, marketplaces tend to be a better starting point for new small businesses.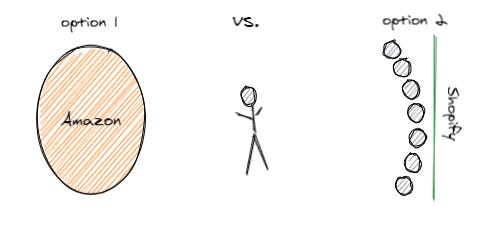 As a result of mature fulfillment networks and increasing ecommerce platforms, consumers have many options for any online purchase. With so many options, I'm skeptical that consumers will want to explore many business websites, especially those of small businesses with limited marketing budgets.
For marketplaces to succeed, consumers need to make it the default for product searches. We've already seen this play out as consumers prefer to get a list of products on Amazon rather than a list of websites on Google. This appetite for an "everything store" originally propelled the rise of the American supermarket and subsequently its ecommerce successor, Amazon.
Etsy vs. Amazon
Even Etsy sees this winner-take-all dynamic continuing, as noted at their 2019 investor day:
I don't see a world 10 years from now where there are 2 million places to buy things online… I think there's going to be a very small number of places to buy things online. I think there's going to be 1 or 2 massive e-tailers with incredible logistics facilities that sell all of the commodities of life.
— Josh Silverman, Etsy CEO
Customers prefer simplicity and if they can get all their simple goods from one place, then they will. It is seeming like Amazon already has a good enough product and best-in-class distribution. As such, they seem best positioned to sell the world all of its commodities — products where quality is virtually the same across suppliers (eg. banana, a specific book, etc).
So is Etsy doomed? Not quite, Josh positions them as serving a different need:
But when the world has a default that yearns for the antidote, I think there will be a very small handful of players who have earned a right to exist and do something different. And I think Etsy is incredibly well positioned to be one of those few people.
— Josh Silverman, Etsy CEO
In other words, Etsy will continue to exist because it is optimizing for a fundamentally different product, one that it hopes customers will yearn for. To illustrate why these products are different, let's look at what Amazon continues to prioritize:
driving down price

improving distribution
Why these two? Because when you're selling commodity products like Amazon is, the only way to win consumers is by selling at the lowest price or having the best distribution. In other words, if you can't differentiate on product, excel at everything else.
The same rules do not apply to Etsy's handmade, unique products.
Etsy wins customers not on the basis of just price and distribution, but because they have a supply of items that you cannot find anywhere else. For this reason, they invest in search and discovery rather than improvements in distribution. Strategy is about prioritization, and Amazon will continue to prioritize its core business over Handmade, its Etsy competitor, every single time.
Though Amazon doesn't break out their sales for Amazon Handmade, the limited data I've seen has not convinced me that Amazon even has enough selection to meaningfully compete with Etsy here.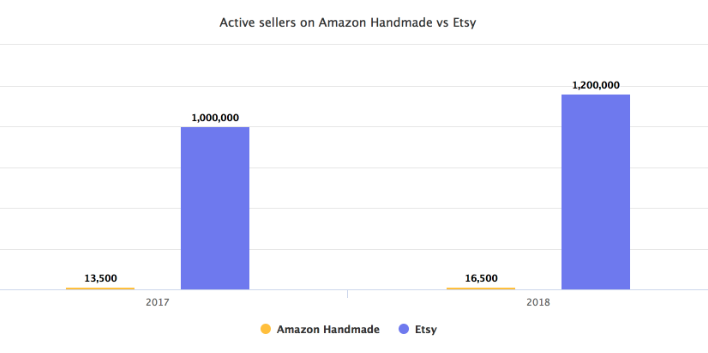 To close the consumer side of the story, I'll add that while Etsy has been around for 15 years, they are still growing their customer base. While these are not off-the-chart numbers, the conversion to loyal customers is especially meaningful when we think about the business' ability to improve their financials.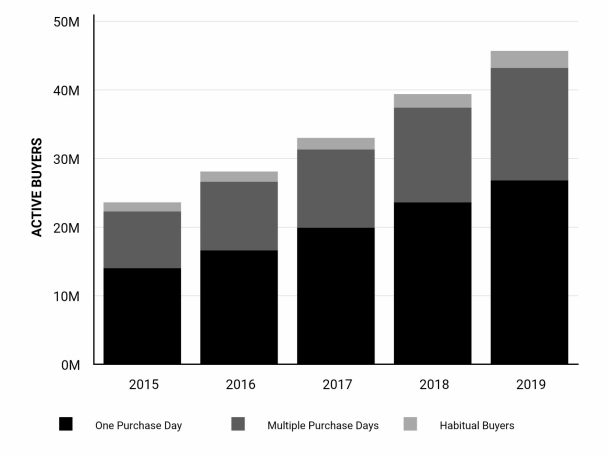 [Source: 2019 Etsy Annual Report]
Why small businesses choose Etsy
Let's shift over to the supply side of the story during this mask frenzy.
To be clear, Etsy isn't known for their masks. Here's a screenshot of Etsy's search results just 2 years ago, when "masks" had an entirely different meaning.
[Source: Wayback Machine]
But that's the thing about sellers on Etsy — they can make whatever they want.
Etsy artisans are primarily solo entrepreneurs and 95% of them run their shops from home. This is a group of makers uniquely equipped with the flexibility and autonomy to change what they sell, even amid the chaos caused by COVID.
Amazon suppliers, by contrast, are in the business of quantity, where success requires the economies of scale necessary to push prices down. In other words, Etsy's small business supply base was the reason Etsy pulled this off so quickly.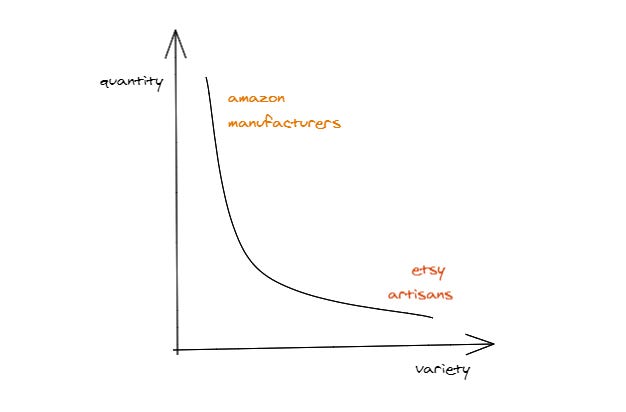 Like all good marketplaces, Etsy's consumer-centricity needs to be balanced with a compelling seller value proposition.
Let's examine your options as a seller of unique, Etsy-like goods.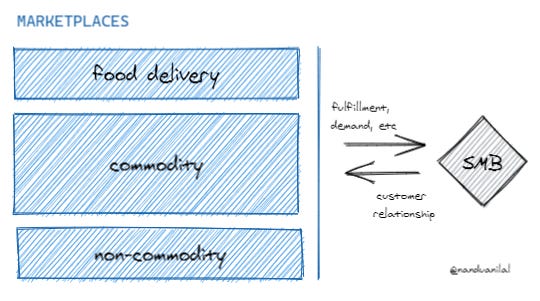 Option 1: You join the a marketplace in hopes that they will drive demand to you and take care of much of the consumer-facing aspects of business. The tradeoff is that the marketplace now owns the customer relationship and may even prioritize consumers' needs over yours. We've seen this time and time again with commodity marketplaces like Amazon prioritizing private label products and food delivery apps squeezing margin from restaurants.

Option 2: You set up your own store powered by a platform like Shopify. They give you the tools to set up your online storefront, manage payments, and so on. The bright side is you retain full autonomy over your business, and no one even needs to know that you've got Shopify hooking it up on the back end. The tradeoff is that you become accountable for all aspects of the business, including generating demand. More likely than not, your fate is now in the hands of Google who you either pay for Ads or pray to for favorable SEO.
In my mind, both of the above options can coexist. While the challenges marketplaces pose are substantiated, there's no denying they lower the hurdle of entrepreneurship. Imagine you're a one-person business and you've got a day job, but like 64% of Etsy sellers, you want to generate some supplemental income. Specifically for this demographic, I think the ease of starting and managing a side hustle on Etsy is a powerful draw.
Customer acquisition seems to be the most challenging element of doing business online. Customers have a fixed level of attention and Google is happy to auction that out to the highest bidder. And when it comes to physical products, that is likely to be some type of aggregator.
That said, Etsy is embracing that customer attention is what sellers want the most. They've built out a new Offsite Ads product that lets/forces suppliers to have Etsy manage Ads across Google, Instagram, Pinterest, etc. It's been met with some resistance, but the thesis that "managing ads is hard, let us do it for you" is one that I think could resonate with sellers if positioned correctly.
To summarize, Etsy's target seller is the aspiring maker as opposed to an established large business. They have over 2 million sellers on their platform, and over 68 million products listed on their website today. Much like Uber and Airbnb, this has and continues to give way to a new type of profession that was not possible before.
The Upside
I've touched on a few elements of why Etsy has succeeded during COVID as well as its place in the ecommerce landscape. Though Etsy has a relatively mature core offering, I wanted to throw out some wildcard opportunities that could bolster their growth:
Category Expansion
In 2019, Etsy acquired Reverb, a musical instrument marketplace, in hopes of broadening the net to catch new customers or cross-sell existing customers. A couple highly speculative acquisition targets:
Society6 (an art marketplace owned by parent company, Leaf Group) — Etsy already sells art, but Society6's search and discovery manages to preserve a sense of legitimacy with its images and design that I think Etsy should adopt.

1-800-Flowers (flower delivery service, publicly traded $FLWS) — Etsy revenue spikes on gifting occasions like Mother's day, Christmas, etc. Though 1-800-Flowers is more in the fulfillment business, it presents an opportunity to bundle Etsy products with a natural compliment. Side note — who would've guessed this flower company has a market cap north of $1B!?
Video
I don't think throwing video at everything is the answer, but… in this case it could be quite interesting. For a company pushing human connection, the product doesn't do much to prove it.
Imagine a short video where sellers can market the uniqueness of their product while giving buyers richer product information. An alternate version of this would be sharing videos of happy customers who loved their purchase. There's many permutations, but I think it could give life to some of these products in the same way that Airbnb Experiences showcases their similarly unique inventory.
Lastly, video provides a compelling incentive to download the Etsy app, where video-based content is increasingly the norm. App downloads —> loyal buyers —> $$$.
Closing Thoughts
It feels like Etsy has been around forever, but stays under the radar even as it has had a tremendous past few years. The company has thrived under new leadership and I continue to be bullish in the long-term.
As usual, I'd love to hear how you all are thinking about Etsy — bullish or bearish?
Lastly, I'll leave you with my two most recent Etsy purchases, one of which was part of a Mother's day gift and one which was a birthday gift to myself. I'll let you guess which one was which.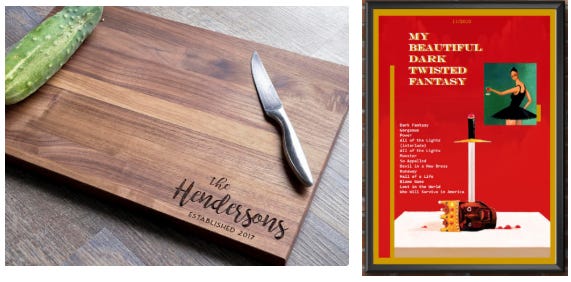 ---
disclosure: I own shares of Etsy, Shopify, and Amazon — all of which were discussed in this post. As with all of my posts, this is not investment advice.