The Renewal of Travel Tech 🛫
What's wrong with online travel booking & what might change?
Hello friends — Thanks for reading and welcome to the dozens of new readers since last time!
I'm using this newsletter as a way to dive into a trend or observation within technology, or startups that I'm learning about. Any thoughts or feedback would be appreciated as this is a learning exercise.
Lastly, if you know anyone who'd be interested in these topics, I'd appreciate if you sent this over to them as well!
---
We're two months into quarantine, and I can't help but imagine what the world of travel looks like after all this. Travel & tourism has come to a standstill, forcing companies to seek new financing in hopes of weathering the storm:
Expedia raised another $3.2B in equity and debt from Apollo and Silver Lake

Airbnb added $2B of debt over the course of the month from

And every airline + hotel is looking for government aid
When markets are constrained, incumbents may resort to a more defensive strategy to protect their existing business. I think that leaves startups with grand, novel visions an opportunity to displace risk-averse, conservative institutions. These dynamics gave way to the founding of companies like Airbnb and Uber in the last financial crisis. In fact, venture funding for travel has seen record years driven by this last generation of companies: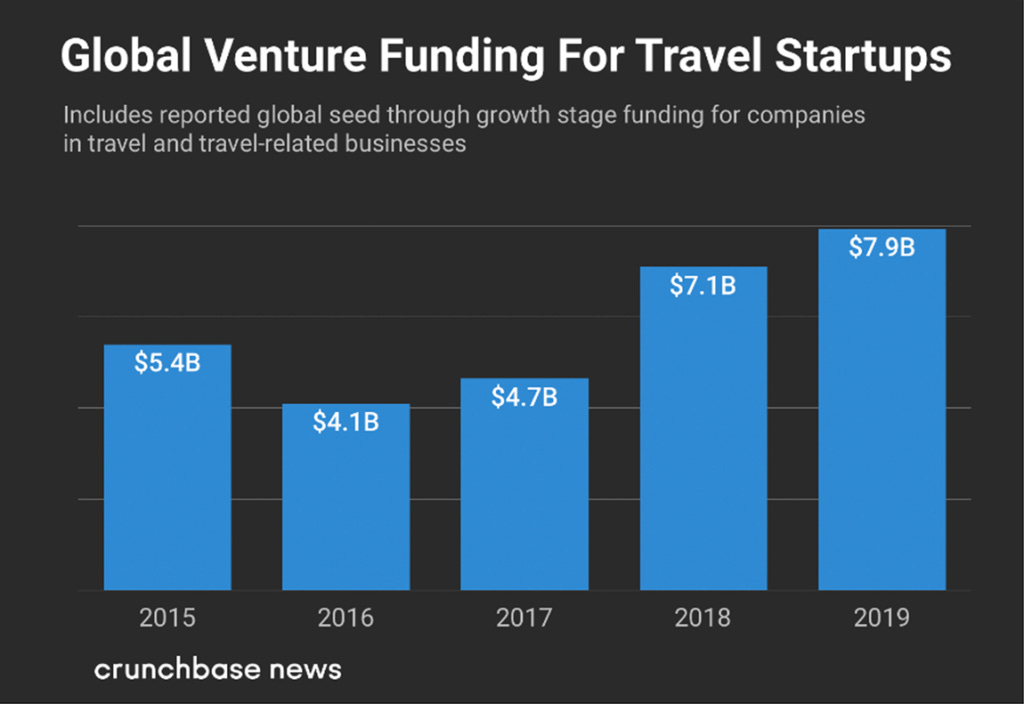 Without a doubt, travel has a painful short-to-medium road ahead, but it will return. When it does, new startups will have made it better.
Booking travel online, today 🌍
Online travel has a lot of household names, evidenced by the 10+ tabs needed to properly plan a single trip. In large part, it's a tough problem space given its international, regulated, and fragmented nature.
The fact remains that travel is important for both business and tourism, and the large industry players have slowed their rate of innovation significantly. Perhaps, they are due for displacement from new, novel ideas.
As it stands, the online travel booking ecosystem is a bit of a mess — there's quite a few players involved which I'll very quickly cover:
Hotels, Airlines, other vendors — United, Airbnb, Hyatt, etc
You're familiar with these guys. It's a mix of large chains and smaller businesses that provide travel services and if you're lucky, the WiFi works.

Global Distribution System (GDS) — Sabre, Amadeus, Galileo, etc
Computerized systems on the back-end that provide real-time inventory (ie which rooms, flights are open at any given time). This is the foundation that consumer-facing booking companies are built on

Online Travel Agencies (OTAs) — Expedia, Priceline, Orbitz, etc
Websites that aggregate vendors and enable consumers to "make a booking" through their site.

Meta-search — Google Flights, Kayak, Tripadvisor, etc
A search layer that groups OTAs and vendors together that lets consumers "make a booking" or redirects to someone who can.
Electronic reservation systems predate the internet, with Sabre first developing a costly system to handle American Airlines flight inventory. Much like AWS was originally an Amazon solution to an Amazon problem, Sabre was an American Airlines solution that eventually commercialized broadly. Drawing more AWS analogs, Sabre and other GDS solutions gave way to a host of new booking companies that would set up shop for decades. Eventually, Sabre was was acquired for ~$5B (which is big, but obviously not AWS big).
Then, OTAs emerged to serve customers directly by aggregating a long-tail of travel vendors, be it local hotels or regional airlines. For consumers, the internet proved a more effective way to view and purchase tickets that dealing with live agents. For vendors, it was operationally easier to have OTAs send you customers rather than find and manage them yourself. The dominant name in the space today, Expedia, launched in 1996 originally as a part of Microsoft: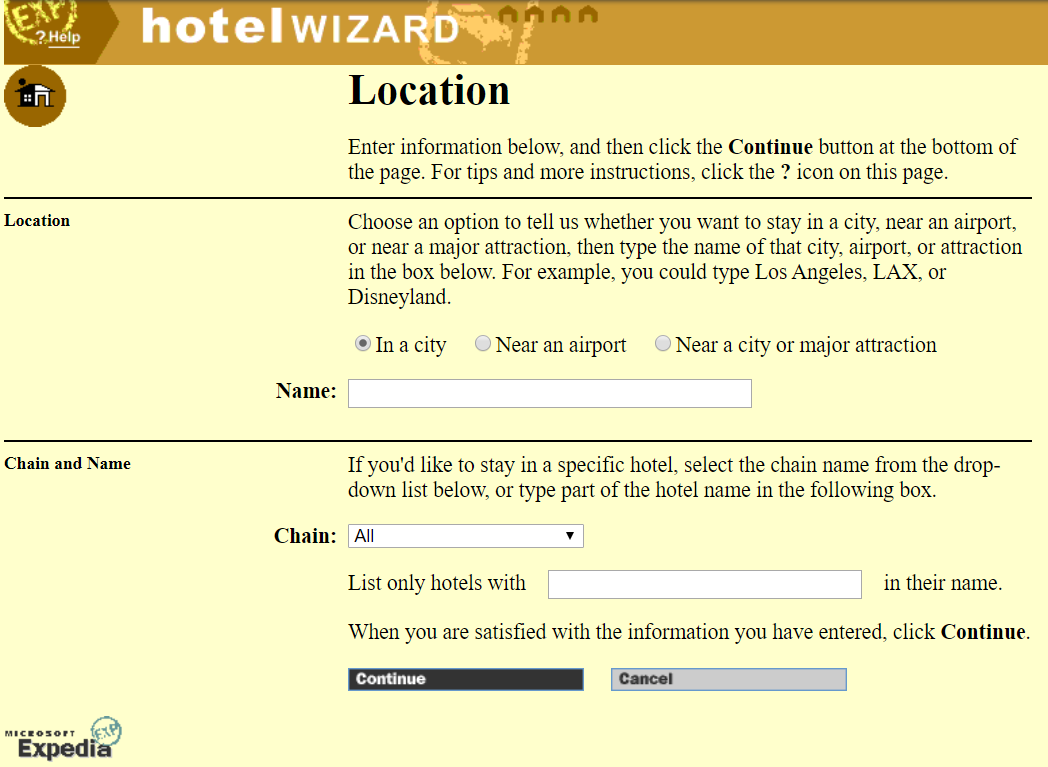 After a few OTAs sprung up each trying to capture a piece of the growing travel industry, the landscape was saturated with many OTAs each capturing a slightly different set of inventory. This led to two things:
OTA consolidation — Both Expedia (acquired Hotwire, Travelocity, Orbitz) and Booking Holdings (acquired Priceline, Agoda) created large portfolios to monopolize the top links from a Google Search.

Emergence of meta-search — Metasearch companies connect disparate OTAs and infuse new value propositions as well. TripAdvisor built up community reviews, Google Flights focused on flight price shopping, and Kayak served multiple modalities all in one place.
So here we are — left with tons of websites, all trying to bridge the gap from a customer search to a confirmed booking. It's a fascinating chain and one that lends itself to ~strategic analysis~ given the varying product and distribution approaches.
While learning about this space, I discovered a few interesting trends and dynamics that I'm keeping an eye on:
1/
Google & owning the customer 🔍
For aggregators, owning the customer relationship is critical. This means the Kayaks and TripAdvisors of the world are competing with Google, where the majority of customers start their query. Google has the opportunity to serve the customer up until the point that they are unwilling or unable to do so. Ben Thompson highlights this effect in-depth in The Google Squeeze:
Google started to transform mobile results in particular to be much more useful: instead of forcing users to click a link for an answer — something mobile users dislike about as much as downloading new apps — Google would give it to them; they didn't even need to "feel lucky". Most importantly, though, when it came to vertical search categories, Google would offer an entirely new kind of results page.
In other words, Google has bifurcated their product experience for verticals that are significant enough to do so. OTAs are learning that they do not own the customer relationship, and are now forced to pay Google to make sure they are included in Google's hotel module. In this Search—>Booking value chain, being the first place that the customer goes provides tremendous leverage.
This isn't unique to travel — it already happens in restaurants, and I had similar concerns that this would happen in the local services market when I worked at Thumbtack. Building a customer brand is easier when the customer needs you on a regular, frequent basis.
The solution is obvious — get rid of Google. Rather, deliver a product or service differentiated enough that customers go to you directly. Amazon is often cited as an example of building an experience good enough to ween off its Google dependence. The fundamental difference is that consumers will never book travel on a daily or weekly basis, making it difficult to create an Amazon-like relationship.
Ultimately, Google can wait to build product later, but the distribution and customer access they have is much harder to come by. As such, low-frequency consumer businesses need to be particularly thoughtful on how to acquire customers without depending too heavily on Google.
2/
Experience Economy 🎭
While much of travel was dominated by old-school, SEO-driven businesses, I don't think they are best positioned to win in the long-term. Users have shifted their activity towards mobile which opens up the opportunity for higher engagement product experiences to thrive. Airbnb and VRBO already proved that multi-billion dollar businesses are possible by creating new travel submarkets.
I also like how TripAdvisor has re-prioritized. They have a unique advantage in that they have a strong, active community of travelers who create tons of valuable content. In 2019, they decided to lean into their high-growth Experiences & Dining business where I believe they can capitalize and build on their user-generated assets.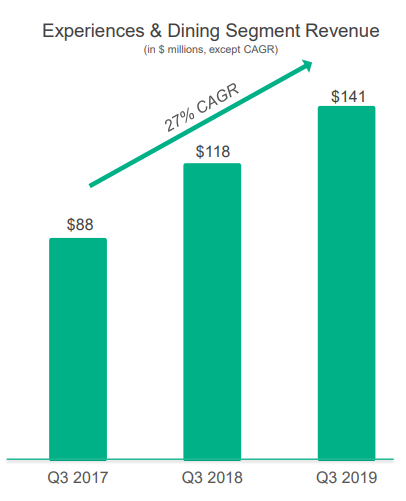 TripAdvisor is certainly not the only player in this space — Airbnb has an Experiences product and there are a handful of travel experience-focused companies like GetYourGuide (raised a $484M Series E 🤯). These are tough businesses to be in right now, but Airbnb was quick to make a short-term pivot toward online experiences.
3/
New opportunities on the horizon 🆕
A lot of these businesses were built when internet booking was less standardized and desperately needed to be bundled up into one consumer-facing view. In my opinion, that problem has been thoroughly solved, which will make profits tough to come by without significant innovation.
In the 2000s, OTAs simply connected supply and demand and served it up via the internet. The 2010s gave way to the sharing economy and Instagram destinations. In the 2020s, I'm interested to see companies tackling remaining problem spaces:
solving group travel planning/booking (how to offload complex logistics)

concierge-type booking services (Setter home services model for travel)

multimodal transportation coordination (eg Omio does this for Europe)

travel hygiene & disease prevention (COVID or not)

direct access to leverage airline/hotel reservation system (eg Duffel)

supersonic commercial flight (hard not to be excited about Boom)

handling flight cancellations, rebooking (eg Freebird)

maybe a copy and paste of the Japanese rail system 🚅
The world has already opened up its borders and it's hard to believe travel won't remain a major industry in the long-run. Even as businesses pay closer attention to business travel spend and consumers are more cautious about where they go, the travel industry won't disappear. Similar to my previous take on automation, I believe today's volatility will manifest in a longer-term reshaping of the industry.
Nandu
Thanks for reading! In case you haven't already, sign up below to get these emails (~1-2 per month) sent directly to your inbox and let me know what you think on email or Twitter!