Accelerating Automation 🤖
How startups will transform labor markets in tough economic times
Hello & thanks for reading! First off, I hope everyone is safe, healthy, and in good spirits.🙂
I'm using this newsletter as a way to dive into a trend or observation within technology, or startups that I'm learning about.
Lastly, if you know anyone who'd be interested in these topics, I'd appreciate if you sent this over to them as well!
---
The combination of the current pandemic and a turning economy puts cost and efficiency pressures on employers. As a result, we may see a labor market transformation pushing us more quickly towards automation. 🔮
Amid the chaos and uncertainty, more teams have shifted to working from home and we now find ourselves catapulted into a world where remote work is necessary. Zoom is now a hot enough social company that they could probably add a Stories feature. Likewise, Slack is on a tear adding newly created work teams (CWT) at an accelerated pace with the stock market reaction suggesting many of these customers are here to stay. (check out great thread by @stewart on the past month for Slack here).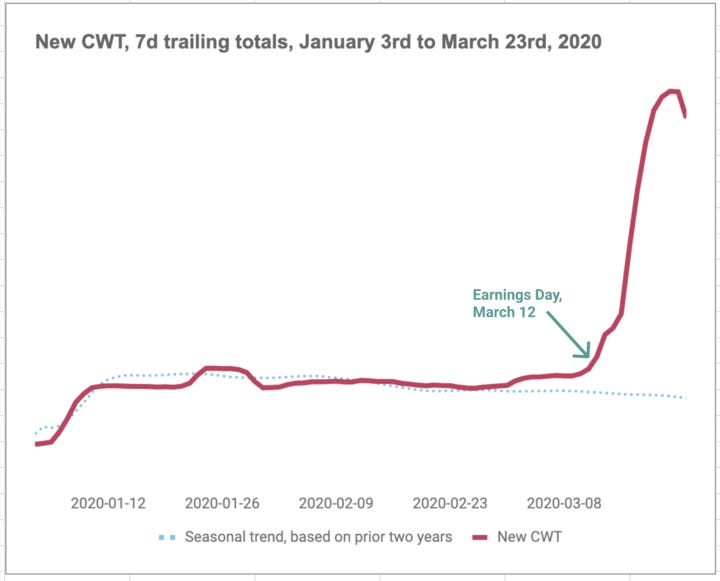 The same market reaction is happening in many consumer segments like at-home fitness, food delivery, and online education where there is the potential to convert temporary behavioral changes to permanent ones. These immediate adjustments are driven by existing tools that aid in the transition towards a remote work / life. We use these tools hoping to create something resembling the status quo in the short-term, but I think we will also see an acceleration of select long-term trends.
Specifically, I anticipate that the current climate will also push automation forward. The theme of automation has been at play for decades, slowly shifting the burden of manual tasks from humans to machines. The combination of an economic downturn with a highly contagious disease may force companies to explore automation solutions with more urgency.
Any downturn is likely to bring a new bout of structural change in the labor market and its demand for skills (Brookings)
A study out of the National Bureau of Economic Research indicates that automation is cyclical, peaking during economic downturns. In the highlighted recession periods, the % of routine activities decreases tremendously while non-routine tasks become a larger portion of workforce activity.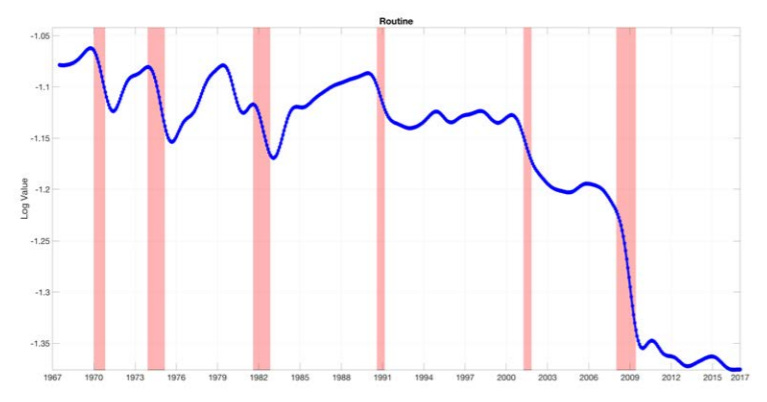 There's two flavors of automation that come to mind, one with a hardware element and one driven by purely software.
Hardware-driven Automation (Robotics) 🤖
The modern manufacturing plant already has automated away portions of manual labor with machines for things like packaging, engraving, etc. These innovations were developed during in the industrial revolution and focus on highly repetitive, standardized tasks (eg putting a cap on a bottle 10000x). It wasn't until advancements in artificial intelligence that automation could apply to a broader set of activities. As a result, there has been steady investment in robotics and automation among early adopters like Amazon as shown below (Ark Invest's 2020 trends report).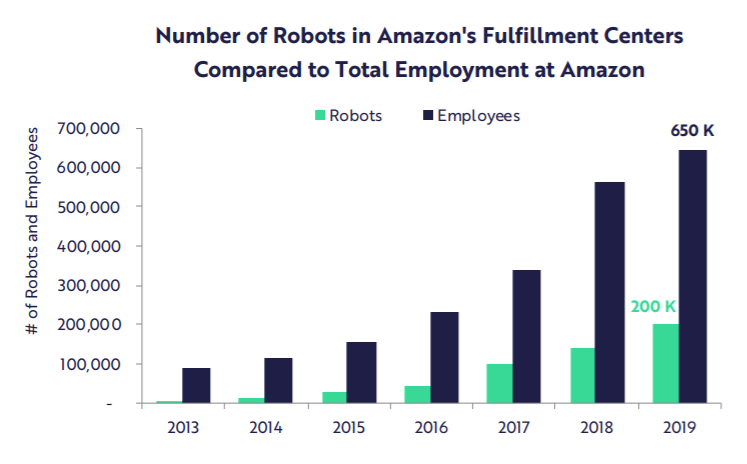 But now, COVID-19 is testing everyone's ability to deliver with a constrained workforce. My take is that we will see investment in automation beyond just the early adopters as manufacturers look to embed resiliency into their operations. Large existing robotics and automation players (Fanuc, ABB, Siemens, etc.) have seen their stocks tumble as short-term prospects for end use markets like automotive and electronics weaken, but there may be a more promising long-term outlook.
From a venture perspective, early and late-stage startups that are utilizing more novel technological approaches now seem to have a new value proposition. As supply chains have become increasingly complex and global, high-quality automation offers a path towards resiliency in the face of extreme labor disruptions like COVID-19.
Note: while I focus here on industrial solutions, there are certainly other use cases that may face similar tailwinds like Medical and Defense.
Software-driven Automation (RPA, IA) 💻
Robotic Process Automation essentially recreates human interaction with digital systems and applications, analogous to a digital robot. Though RPA is already all the rage, I'm curious to see whether the momentum continues in a transitioning economy. As companies are forced to evaluate how to grow in a harsher climate, will they turn to automation solutions to supercharge their workforce? It seems possible that RPA solutions would see an uptick as the workforce is forced into the digital age. As a workforce adapts to a remote lifestyle in the near-term, perhaps their appetite for technology and software will go beyond just conferencing and messaging software.
While there are large players like Blue Prism, UIPath, and Automation Anywhere helping create the RPA market, there's plenty of opportunity for new solutions focused on specific vertical segments or workflows. We are seeing solutions emerge that are driven by more robust AI that are driving towards a more intelligent form of automation.
We recently funded Alkymi, which helps free up time for the business analyst to actually analyze business by automating data extraction from email. Similarly, other segments remain interesting (Ironclad for legal industry, Tines for security functions, and so on).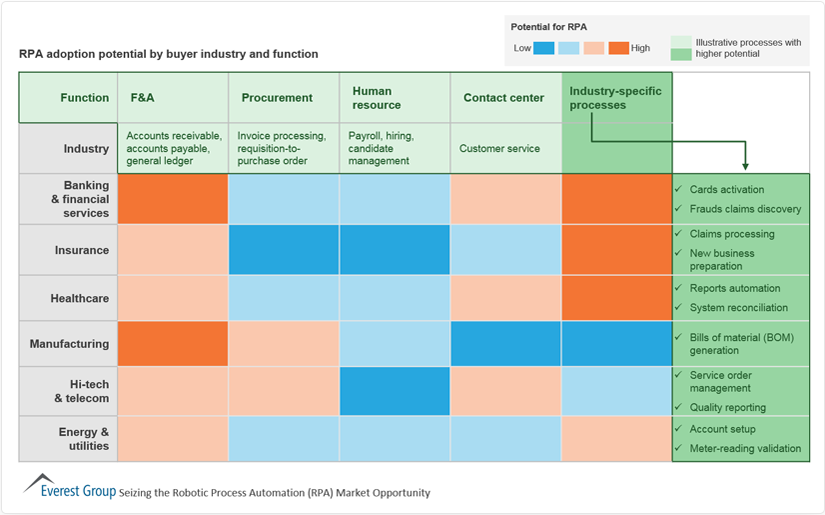 It's typically a renaissance for what work looks like during tough economic times, but I don't think it's necessary all doom and gloom. I'd like to think that as RPA and simultaneously no-code tools evolve, it nets out at a better human workforce.
Telepresence?? 🌎
Lastly, I came across this very interesting article from 1980 by Marvin Minsky on Telepresence, in which he promotes a 20-year vision to enable work remotely. Marvin was a big contributor to the field of AI, and highlights the need for robotic arm-like technologies that would allow humans to work better and more safely. In large part, this vision has yet to be achieved as most work is not possible remotely even in 2019: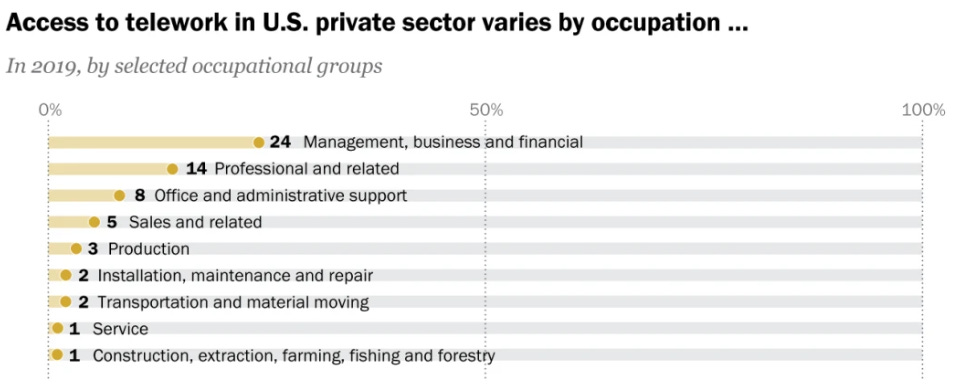 It's on the money with regards to medical applications like Auris that enable healthcare professionals to do their work via a remote controller. It's less accurate, but all the more interesting in other regards:
Manual labor could easily be done without leaving your home. People could form "work clubs." One region of the world could export the specialized skills it has. Anywhere. A laborer in Botswana or India could market his or her abilities in Japan or Antarctica.
That said, the combination of telepresence and automation may yield a world in which an increasing portion of the workforce sits in an at-home command center, controlling work elsewhere, but that sounds like sci-fi as of now.
The trends of automation and remote work were already set in motion, but are shaped by economic shifts as well. It's unclear how long this virus will alter our lives and how significant the damage might be, both of which I'm certainly not in a position to forecast. It does bring to light the importance of understand how the world may change as a consequence of these low-probability, mega-impact events.
I'd love to continue this discussion on Twitter or email, so don't hesitate to shoot me a message.
Nandu
Thanks for reading! In case you haven't already, sign up below to get these emails (~1-2 per month) sent directly to your inbox and let me know what you think on email or Twitter!